Nature is an overarching theme in the design of the new health centers for Utah Navajo Heath System. The features, materials, and colors used throughout the design of the Montezuma Creek Health Center and the Blanding Health Center were inspired by the geographic surroundings of Montezuma Creek and Blanding, Utah. Many of the motifs and design elements throughout the facilities were chosen to represent and emphasize the importance of nature within Navajo culture and tradition.
---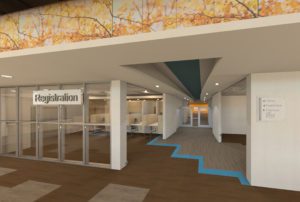 The stone walls throughout the Montezuma Creek Health Center resemble the rustic nature of the nearby mountains. The natural river rock and the continuous mural along the back wall of the lobby evoke a cultural connection to the outdoors for all those who enter the facility including staff, patients, and community members. The curved ceilings and the natural lighting shining from the high windows make it look and feel like you are walking through the nearby canyons as you walk through the lobby.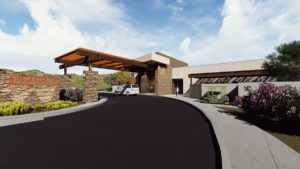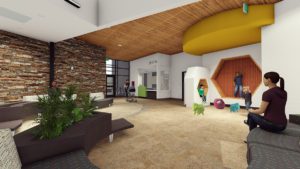 The sharp angle of the porte cochere above the entrance at the Blanding Health Center represents the imposing cliffs and pointed rock formations in the nearby Utah landscape. The exterior finish of the facility identifies with texture and color striations found in the natural rock formations that can be seen throughout Utah. Inside the lobby, the natural stone veneer brings to mind the diverse rocks and geological structures in Utah that have been exposed by erosion and climate factors. These wholesome and engaging interior design features, inspired by the surrounding outdoor environment, soften the otherwise sterile environment of a health center.