Daniel Feldbusch has worked as a BIM/CAD Technician for 8 years at DMA! He works on all phases of our projects starting from the very beginning of the design, all the way through the end of construction. Having worked in the architectural industry since 2004, Daniel has experienced the rapid transition of technology that has ultimately enhanced our drafting and modeling processes. These processes help shape the built environment early on in the design process. His use of 3D Building Information Modeling (BIM) software allows him to quickly capture the reality of a building in a highly visual and collaborative way.
---
Q: HOW WOULD YOU DESCRIBE WHAT YOU DO AS A BIM/CAD TECHNICIAN IN A FEW SENTENCES?
A: I produce construction documents using Building Information Model (BIM) which is a digital 3D model of a building. This 3D model will contain almost every part of a building. I coordinate with all of our consultants to ensure each part of the model comes together without conflict. During the construction phase, I assist in construction administration. Having a 3D model is extremely helpful during this phase.
Q: WHAT PROJECTS ARE YOU CURRENTLY WORKING ON?
Q: WHAT HAS YOUR FAVORITE PROJECT BEEN SO FAR? WHY?
A: I liked working on the Navajo Nation Justice Centers. I had never worked on a Detention building, Law Enforcement Building, or Courthouse before and this project had all of those in one, so I was able to learn a great deal about each of those types of facilities.
---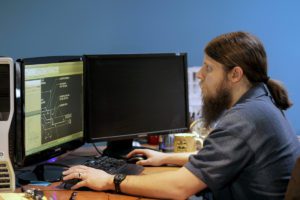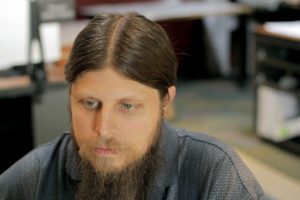 ---
Q: WHAT DOES YOUR TYPICAL WORK DAY LOOK LIKE?
A: Right now my days are busy with a project that is currently in the construction administration phase which is always requiring attention. I'm also working on construction documents for other projects. I balance my time and prioritize what needs to be done between each project. The days go fast and sometimes it feels like there is not enough time to finish what needs to be done. But that can be a good thing. Deadlines help motivate me to finish my work effectively and efficiently.
Q: WHAT MADE YOU WANT TO PURSUE A CAREER IN ARCHITECTURE?
A: As a kid I worked with my dad in the construction business on my summers out of school. My high school offered an AutoCAD class so I signed up. I guess I decided I wanted to draw the buildings rather than build them.
---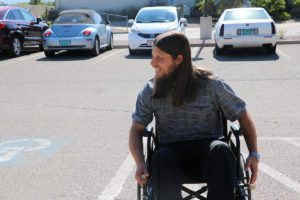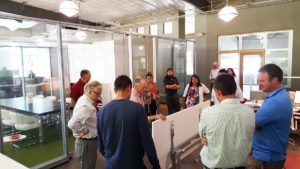 ---
Q: WHAT IS ONE OF THE MOST INTERESTING THINGS THAT HAS EVER HAPPENED TO YOU ON THIS JOB?
A: While traveling to a project site 5 hours away with one of my colleagues, we got a flat tire. It was cold, and there was snow on the side of the road. We pulled over to change the tire. The spare tire was located underneath the vehicle and is lowered down from a crank. But of course that didn't work. It got stuck half way down and the spare tire was just hanging there. Eventually we were able to get the tire free. The whole time this was going on we had the hazard lights on and little did we know, we also had the headlights on.
After getting the spare tire changed we jumped in the car ready to go, but it didn't start. The battery was dead. We stood on the side of the road waving the jumper cables at the passing vehicles hoping someone would stop and give us a jump. After some time in the cold watching what seemed like hundreds of vehicles pass without stopping, someone finally stopped to help. When we were getting a jump the guy told us the headlights are on. The vehicle we were in had a light switch that kept springing back to "Auto" when I would try to put it in the "Off" position. So the lights would stay on. I had to hold the switch in the "Off" position till we got the car started. We finally got it started and drove to the nearest gas station to fill the spare tire we had just put on…It was a fun trip!
Q: WHAT ADVICE WOULD YOU GIVE TO PEOPLE STARTING OFF IN THE INDUSTRY TODAY?
A: Learn Revit, ACAD, and as many other computer programs as you can. The digital world is moving fast and BIM is where architecture is. Also, get involved with construction or site visits as much as possible. Working in architecture is more than just conceptual or theoretical designs. These designs need to work in the real world and having knowledge of construction will help in the architectural business.