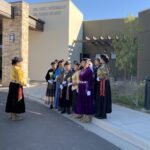 On October 19, 2022, a groundbreaking ceremony was held at Chinle, Arizona, near the site of the Chinle Nursing Home for the long-anticipated Chinle Warriors Home, or "Nabaahii Bi'Ghan". This facility is intended to serve Navajo veterans in an extended care facility environment, the very first on Native American lands in the U.S. The facility was designed in June of 2014 by DMA with team consultant Orcutt-Winslow Architects. The planned 2-story, 60-bed facility is designed at 45,850 square feet.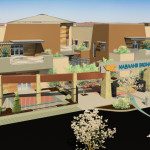 The project development was managed by Navajoland Nursing Homes, Inc., particularly, Mr. Wayne Claw and the Ms. Seraphine Daily, President of the Nabaahii Bi'Ghan All Veterans Auxiliary. Navajo Housing Authority provided funding for the design phases and the Navajo Nation Council passed a resolution for funding the facility during the Spring Session of the Council in mid April, 2022, and signed by the Navajo Nation President on May 9, 2022, making it official that Nabaahii Bi'Ghan construction funding is approved.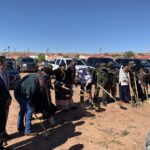 The October 19 Groundbreaking ceremony was a community event coordinated by the Nabaahii Bi'Ghan All Veterans Auxiliary group.  The event began with the posting of colors by the Dine' Saani Silaotsooi Color Guard group.  All veterans, including Navajo Code Talker Thomas H. Begay, US Marine Corps & US Army, World War II Veteran, were honored by guests and community members on a sunny, warm morning in Chinle.  Ms. Cecilia Sandoval (USAF), and Mr. Timothy Johnson (USMC) acted as the event coordinators on behalf of the Auxiliary.  Members of Veterans Advisory Councils representing Western, Eastern, Central, and all Auxiliary Councils across the Navajo Nation were in attendance, including veterans who have honorably served their country in the military, all branches.  Michele Ralston represented Arizona Congressman Mark Kelly.  Navajo Nation President Jonathan Nez also attended and offered words of support.
The morning was full of speeches and remembrances of the events leading up to this special day for all Navajo veterans, and DMA is proud to be a part of developing this facility, with construction activities expected to begin in 2023.