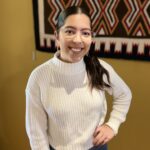 Q: What inspired you to pursue architecture?
A: I chose architecture because of the way it impacts our communities. Architecture is a tool to connect people and places, it offers opportunities for positive environmental, economic, and social impact. I love how it is more than a structure and holds underlying importance to communities. I was inspired to pursue architecture in hopes to design honest, sustainable, affordable, and attainable architecture. 
---
Q: Who or what motivates you?
A: I am motivated by my grandparents and parents who came with very little and still accomplished to give me everything and more.
---
Q: What would you say is your strongest advantage when it comes to architecture?
A: I would say my strongest advantage as when it comes to architecture is creating conceptual underpinnings.
---
Q: Tell us a fun fact about yourself. 
A: A fun fact about me is that my first language is Spanish and I took Mandarin for 6 years.
---
Q: What is your dream design project?
A: My dream project would be to work on a building that was both a functional structure and an art installation. Imagine a combination similar to Yayoi Kusama's installations and Meow Wolf. I think it would be really fun to mesh art and architecture together and see what kind of spaces it would create.