In July of 2021, Dyron Murphy Architects developed a charging network plan that covered the Navajo and Hopi Reservations. This exercise was intended to assist our office in prioritizing which projects would benefit from EV Fast Charging based on their location and project type.
The original plan was created using a standard low-resolution Navajo Nation map with the EV Charging locations sketched in a free-hand style. It worked for the intended audience which was our in-house design teams. However, we realized that there was a wider audience that might find our efforts useful for their planning purposes. Through the grapevine, we learned that our original sketched version of the network plan ended up in Tesla's hands.
For this reason, we have decided to create an official version of our EV Charging Network Plan that covers the Navajo and Hopi Reservations and includes surrounding cities on major state highway routes.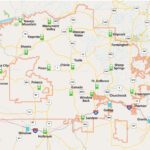 In Addition to promoting EV Charging for our client's projects, DMA installed a Level 2 Charging Station in 2020 at the DMA office in Albuquerque. As part of our company's Architecture 2030 Commitment to sustainability, we installed the Chargepoint + Dual Head EV Charging Station for staff and visitor charging. It is free for public use and is one of our ways of encouraging the adoption of electric vehicles in our community.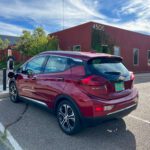 Developing the charging network plan on the Navajo and Hopi Lands was done out of a desire that Dyron Murphy Architects has to best serve our native clients in the planning and design of their projects. While the primary purpose of the plan is to serve our native clients, we see the benefits of providing a reliable EV Charging network across the region for the traveling public. Tourism is important to the Hopi and Navajo Tribes and they have been supportive in wanting to include DC fast-charging infrastructure in their projects. Shiprock Visitors Center project is a good example of their desire for EV Charging in support of tourism. The Hopi Health Care Center (HHCC) expansion project will also include DC Fast Charging. HHCC medical staff may be traveling daily from Flagstaff that have or quite possibly desire to drive an Electric Vehicle as their primary mode of transportation. The health care center is located on AZ Highway 264, which is a primary route for Navajos and Hopis connecting Tuba City and Window Rock and is near the intersection of US Highway 87 which connects to Winslow, AZ and the I-40 corridor. Other potential tourist destinations on local Tribal lands are Chaco Canyon and Canyon de Chelly National Monument and others that border or require crossing native lands to get to are the North Rim of the Grand Canyon, Bears Ears National Park, and Monument Valley in Utah to name just a few.
Dyron Murphy Architects' commitment to sustainability and striving for lower energy use in our building designs is not new. We designed the first LEED projects certified in both Arizona and New Mexico in 2004 and 2005. However, in 2019 we started looking more closely at the impact the climate crisis has upon the built environment. As architects and engineers, we are the primary drivers of building design. As such, we renewed our efforts to lower operation energy used in our buildings and began to consider embodied carbon in the construction of our projects. Fast forward 3 years, after a worldwide pandemic, we now face broken supply chains, high gas prices, and inflation as high as the 70s and 80s. With all this pressure on the economy and more drastic weather as a result of the warming climate, Electric vehicles are not only becoming more available and affordable, they are in high demand. It was a long way just to say that EV Charging infrastructure is getting to be a pinch point in the wider adoption of Electric Vehicles. We need EV Charging to be a part of our efforts in promoting sustainability in our projects.