"A key role for an Interior Designer is FF&E specification. FF&E stands for Furniture, Fixtures, and Equipment. FF&E should meet safety codes and standards for flammability, toxicity and slip resistance." (i)
There is more to FF&E than meets the eye. "Besides aesthetics, FF&E involves many technical and legal issues, such as flammability and code requirements." (i)
When most people think of FF&E, they think of selecting furniture, throw pillows, paint chips. However, FF&E truly involves the selection of appropriate materials and finishes for a project. This requires considering more than just aesthetics. Specifications should be durable, functional, and meet the projects sustainability, budgetary, and safety needs. So where does this all start? Research.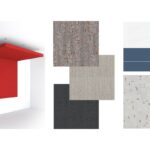 The research and sourcing of FF&E information can be a long process or quite simple- it all depends on the project and situation.
The process can be broken up into all or a few of these steps:
Making an Initial selection:
Selections that meet any budget and design requirements are a great place to start.
Industry standards:
"The Interior Designer will need to consider whether a product or material needs to comply to industry standards as well as if any requirements are mandatory or optional." (i) Industry requirements can greatly dependent on the project type. A great example of this is in healthcare project standards. When specifying products for a Hospital or Clinical project many times the designer is required to reference and follow a set of guidelines for health and safety such as FGI (Facility Guidelines Institute). At DMA, we typically follow more than one guideline when considering materials for a healthcare project.
Codes/Regulations:
There may be federal, state, or local governance related to FF&E, such as flammability requirements or sustainability requirements. Many times, when specifying products, the designer will refer to building code standards or to a in house code expert to research what the requirements are for a specific project. Standards can vary greatly for every building type, so its helpful to have a designer to be apart of your project to give you the best outcome aesthetically and technically.
Sustainability:
"There are many sustainable certifications in the design and construction industry. A common one, LEED, requires FF&E to conform to environmental standards." (i) Here in New Mexico, we have state regulations to follow for sustainability in construction standards as well. At DMA, we work to go beyond an industry check list by always having sustainability in mind for all our design decisions. One way we hold ourselves accountable is by joining the AIA 2030 Commitment as well as creating a Sustainability Action Plan on how we as an office plan to reach our sustainability goals in all of our projects.
Samples & Mock-ups:
A final and critical portion of FF&E Specifications is obtaining samples of your finish products. Having a mockup of an Interior materials palette can help the designer and client in moving forward with the design process. We all learn so much from our basic senses of site, touch, and smell. A material sample could look like the perfect choice on a computer screen or photograph, and then look completely different in person. An Interior Designer will typically order samples of the major material selections in a project and then create a presentation palette to review with the client. Material samples can vary from Wall treatments, Textiles, Floor Coverings, and Architectural Wood Work.
The world of FF&E Specifications can be deceitfully simple at a first glance. As we have explored today, there are so many supporting layers to consider when making a selection for a project. Having a trained Interior Designer on your project for FF&E specification can save you time, money, as well as support you in your sustainability and aesthetic goals.
---
(i) NCIDQ Interior Design Reference Manual