Lloyd Kiva New, (Cherokee, 1916-2002) was a primary figure in the establishment of the Institute of American Indian Arts (IAIA) in Santa Fe, New Mexico.
Initially, New envisioned a "design laboratory" that taught young Native American students how to make a living through their arts. New co-founded IAIA with Dr. George Boyce and opened in Santa Fe in 1962. The school, initially a high school and then later a college, was funded by the Bureau of Indian Affairs.
New served as the inaugural Art Director and later President of the school. The purpose of the school was to provide an education that fostered pride in student's indigenous heritage and featured the development of skills designed to improve their economic opportunities. He served as an adviser to the National Museum of the American Indian.
The Lloyd Kiva New Welcome Center was developed to serve as the "front door" as the welcoming node to the campus. In keeping with the Institute's mission to empower creativity in Indigenous arts and cultures, the interior of the Welcome Center acts as a canvas for showcasing student and alumni artwork.
Orientation of space connects the Welcome Center to campus landmarks which are framed in building views, including the traditional Navajo Hogan to the east and the main central plaza to the west. Overall, the building design and placement respects the original 1993 campus master plan, updated in 2010.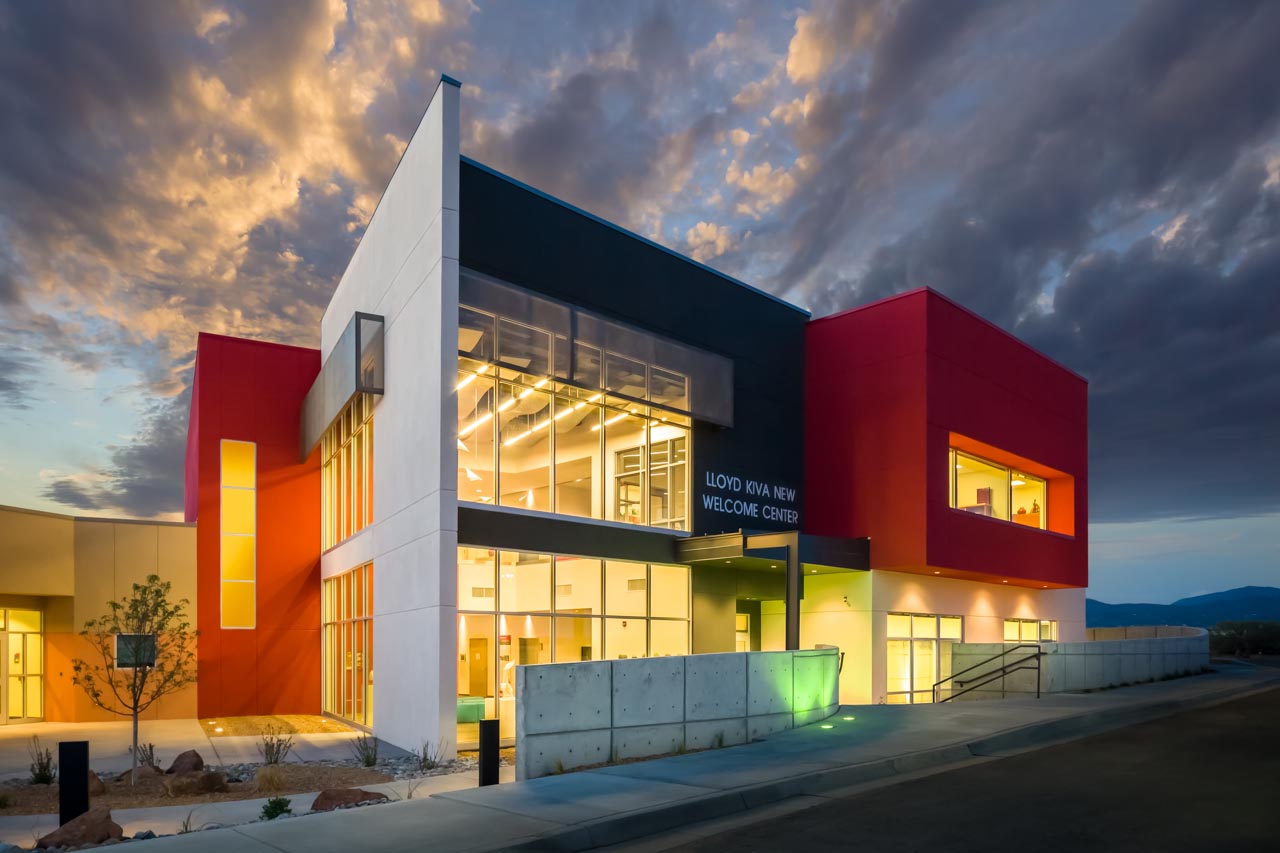 The Lloyd Kiva New Welcome Center blends contemporary design with the traditional campus aesthetic and incorporates the bold, artistic colors into the design.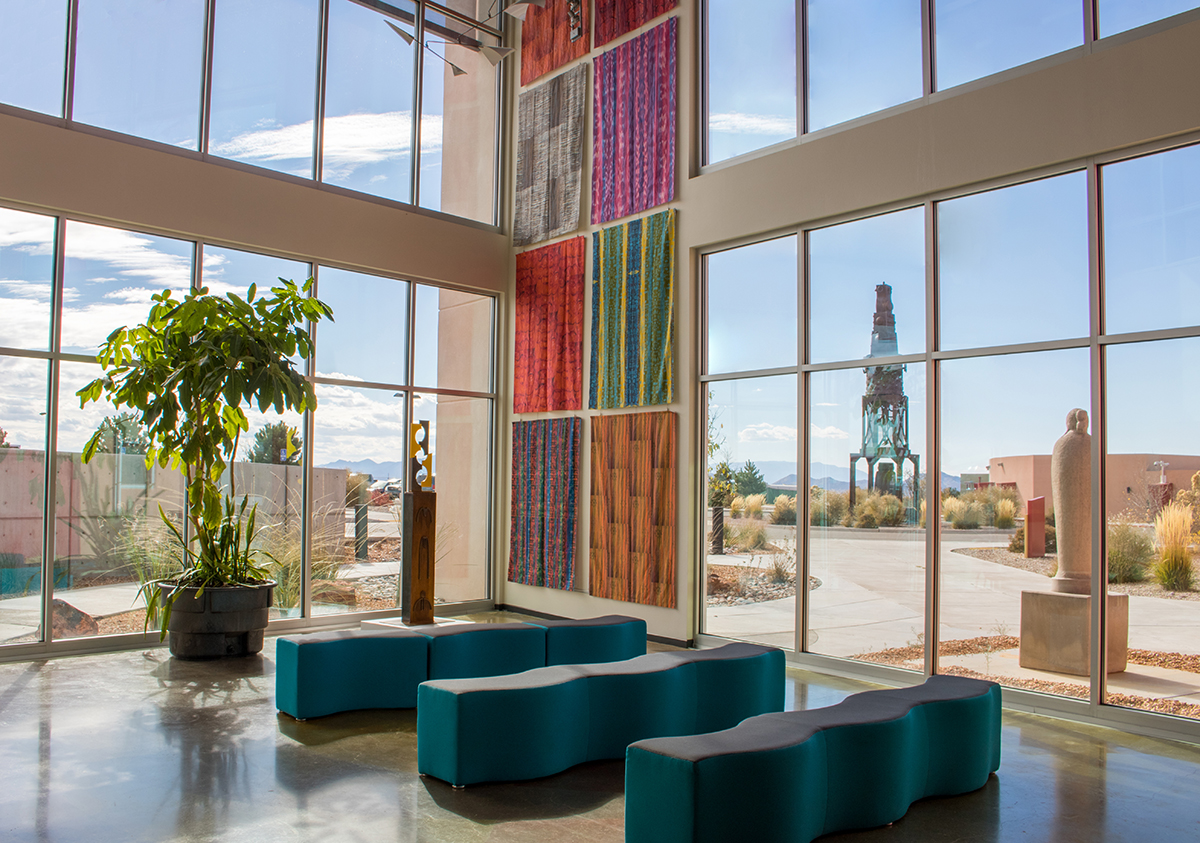 The central gallery showcases student art, in various mediums: sculpture, textiles, paintings, photography. This space was designed to respect the multitude of North American Native cultures represented on campus. The displays are meant to be on a rotational basis, and feature current student works.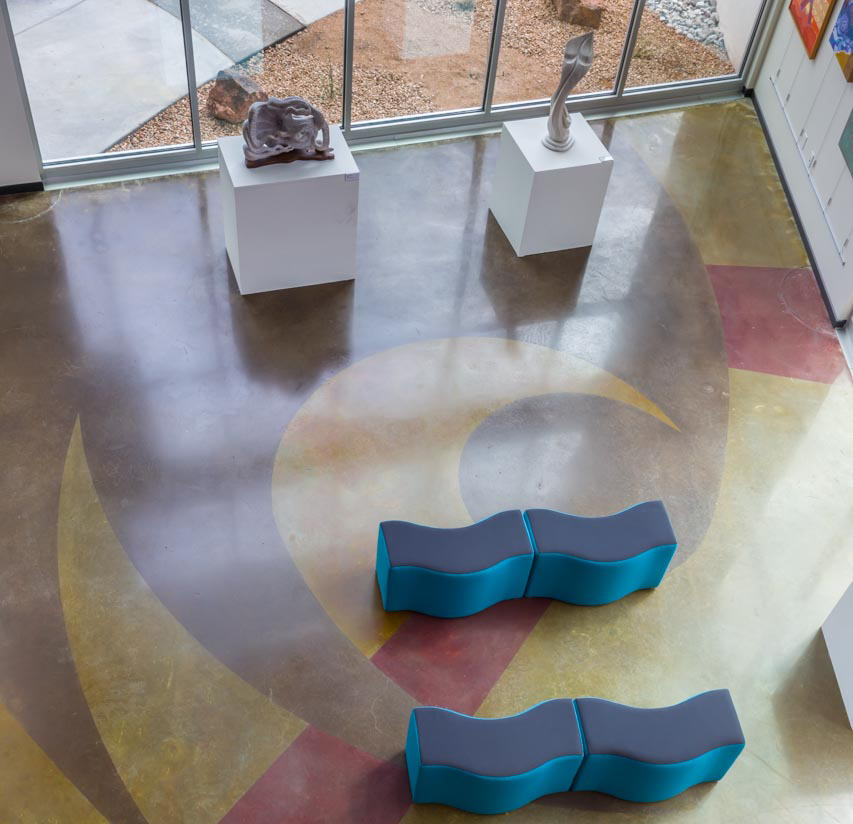 A view from the second level into the entry gallery features design motifs of pueblo art within the concrete floor, which is stained and sealed.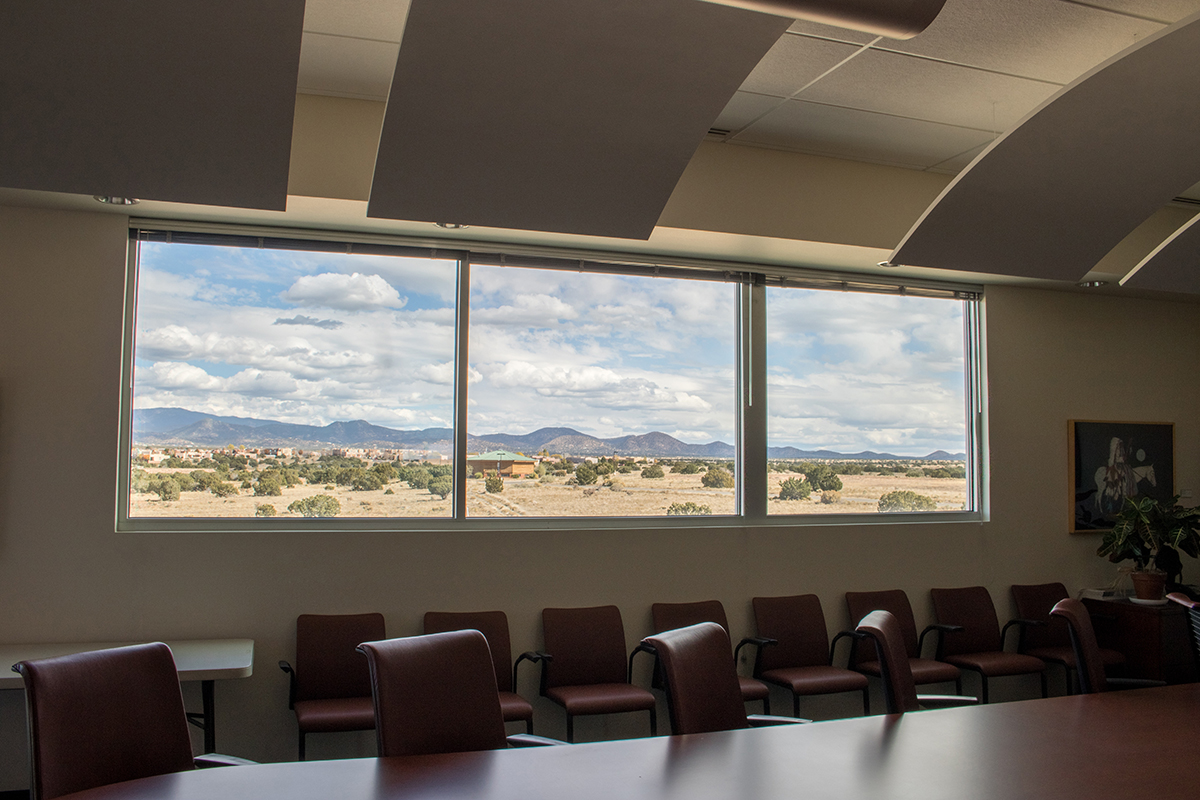 Views from the main administrative conference room and adjacent outdoor roof deck capture exceptional views of the Sangre de Cristo Mountains to the east.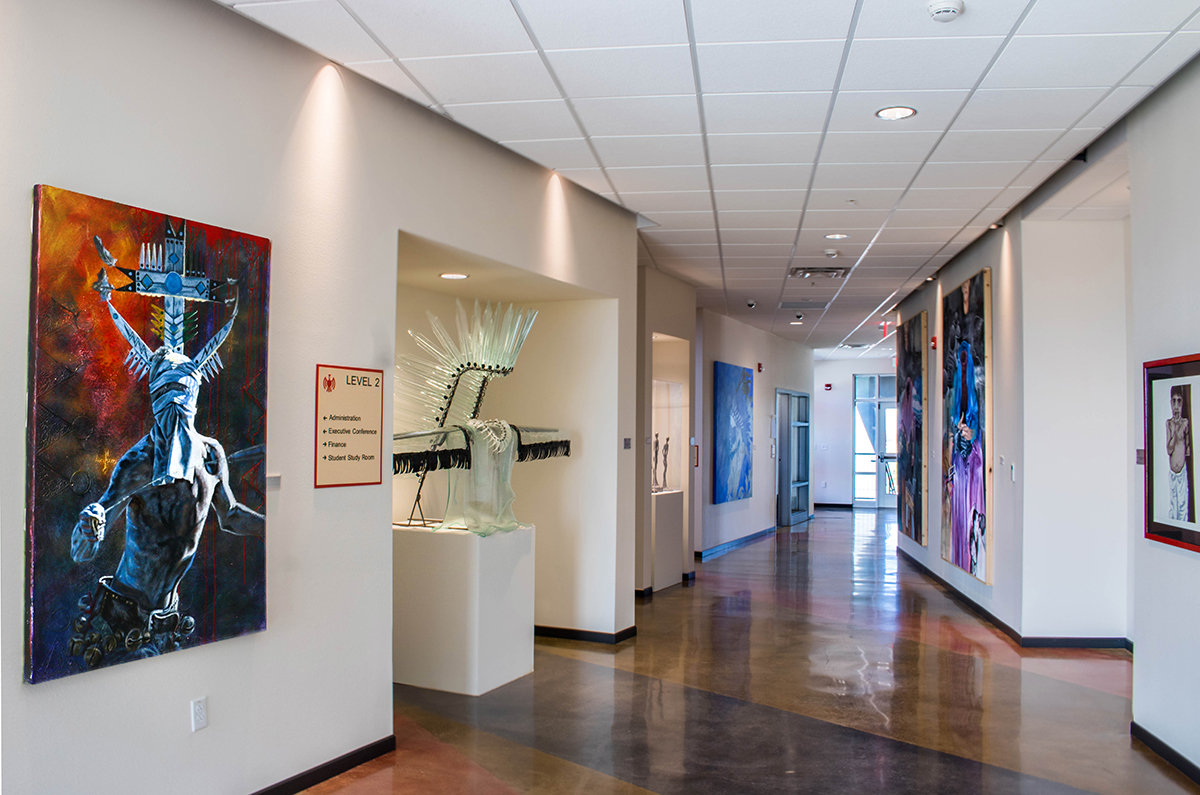 Placement of wall niches, accent lighting, and flexible display space within the design offers a variety of art media displays throughout the building. The artwork is intended to be interchanged on a regular basis, offering different students and artists an opportunity to proudly display their work.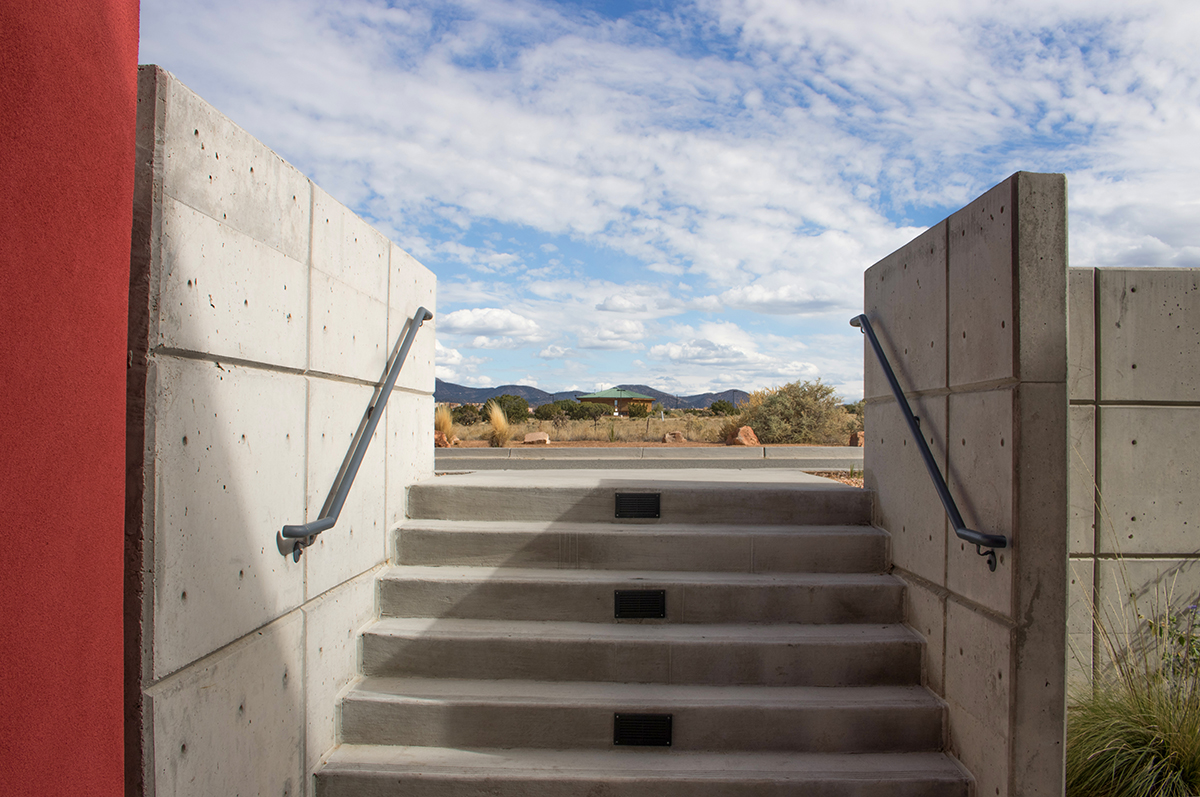 The Lloyd Kiva New Welcome Center maintains a line of sight to the traditional Hogan to the east.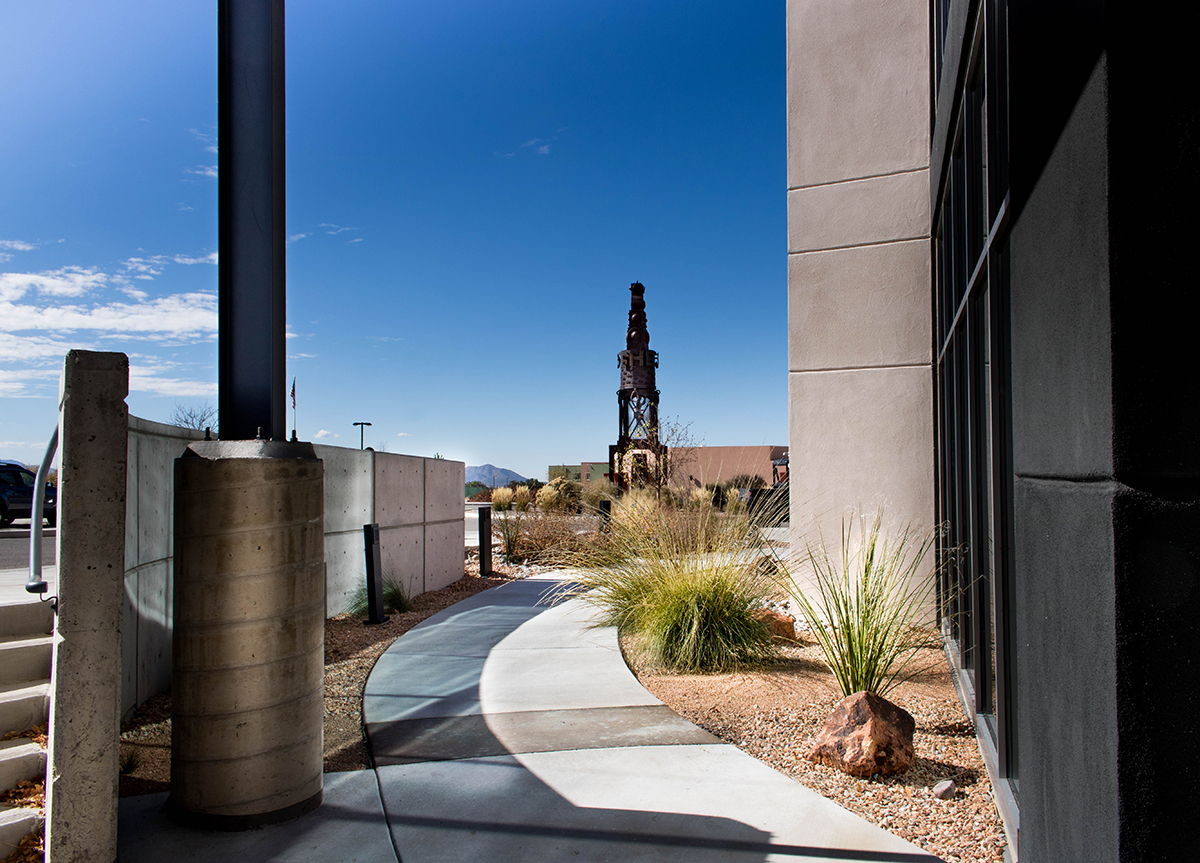 Curved cast in place concrete walls and exposed steel are common design features throughout the campus.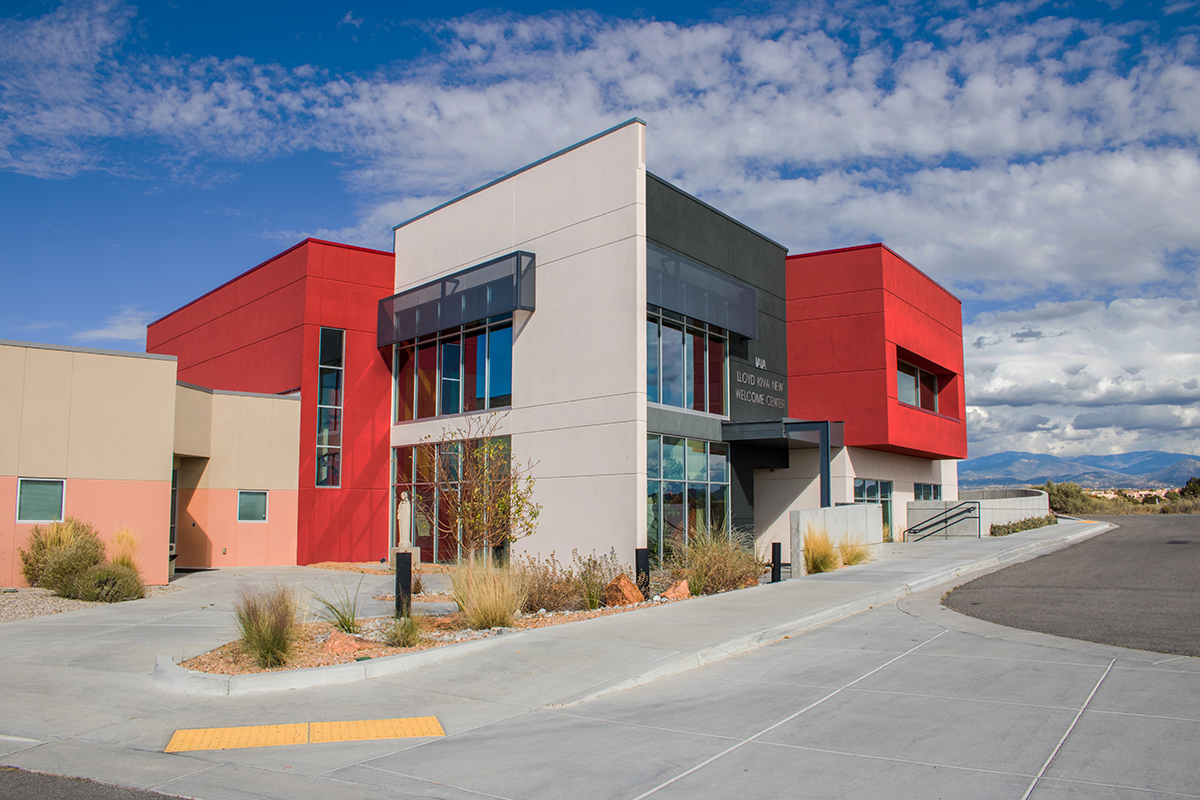 The cantilever is a signature form that acts as a sun shade to the large office windows on the first floor. The extended screen wall protects the glass wall system from the harsh west sun and the main entry from the wind.
Related Team Members
Dyron Murphy

Oscar Tovar
Vanessa Garcia
Related Projects
IAIA Lloyd Kiva New Welcome Center
IAIA Multipurpose Performing Arts & Fitness Center
IAIA Center for Lifelong Education
IAIA Science & Technology & Sculpture & Foundry Buildings