August 2017 marked Armando's 15th anniversary with DMA! Armando's first role was Job Captain, which progressed into the roles of Project Manager and Specifications Writer, then Senior Project Manager. Having been with DMA from the beginning, Armando was a natural choice for Director of Operations when the position opened up. When opportunities arise and his workload permits it, Armando still indulges in the role of Senior Project Manager, involved with design, production, specification writing, quality control, and construction administration.
---
Q: HOW WOULD YOU DESCRIBE WHAT YOU DO AS THE DIRECTOR OF OPERATIONS IN A FEW SENTENCES?
A: It's like being behind the scenes in a movie or a play, no one knows you exist or what you do, but the show stops if you are not taking care of business and its protagonists. Without a doubt, it is a difficult position to hold due to the responsibilities involved and difficult decisions made on a day-to-day basis.  However, it is very satisfying knowing that the bosses and the staff rely on me and know that I am behind the scenes supporting them and coming through for them in all matters having to do with the business operations, their well-being, and their livelihoods. To me, this is the best feeling in the world.
Q: WHAT IS YOUR FAVORITE PART OF WORKING AT DMA?
A: Being in the architectural and construction industry is a given favorite bar none. And working at DMA with its diverse projects and clientele is another favorite. But I've always said, it's the people I work with every day that makes working at DMA the best! At DMA I have met some of the world's most extraordinary people, all unique and talented in their fields of expertise. Of course, we may agree to disagree at times, but the people at DMA make a great team!
Q: WHAT HAS YOUR FAVORITE PROJECT BEEN SO FAR? WHY?
A: I would have to say that it is a 3-way tie between Beclabito Day School, the Santo Domingo Head Start, and the Fort Defiance Multipurpose Youth Center. In my opinion, these three projects were monumental architectural accomplishments to their respective owners because they replaced undersized, dilapidated, and generations-old facilities! I can still recall the people's joy and excitement when these three projects were completed. That's what it's all about!
---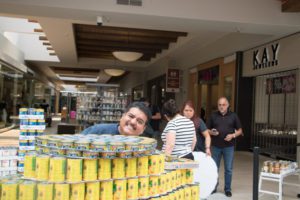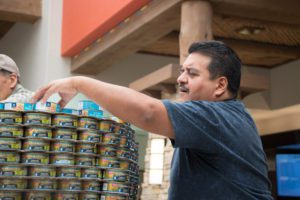 ---
Q: WHAT IS YOUR FAVORITE PART OF THE WORK DAY?
A:I love it when the office is busy and full of action. I look around the office and see our administrative assistant fielding incoming phone calls one after another. The production staff and architects hard at work planning and discussing their projects. The conference rooms filled with people and meetings. Our marketing team eagerly trying to win our next great project. Product reps coming and going. Our finance director ardently crunching numbers on the adding machine. And the boss, trying to keep up with all the activity – priceless!
Q: WHAT MADE YOU WANT TO PURSUE ARCHITECTURE?
A: It was actually thanks in part to my sixth grade teacher, Mr. Saucedo. He gave out an assignment to list three things we would like to be when we grew up. In my naivety, I listed, Bullfighter, Janitor, and Architect. Of course, Mr. Saucedo, with his infinite wisdom, convinced me that with my "intellect", I was better suited at becoming an architect. Well, I guess I came pretty close and I am still alive! And I owe it all to a teacher!
Q: TELL US A FUN FACT ABOUT YOURSELF?
A: I met Dyron in 1986. We were young bucks in our early 20's. I vividly remember him saying back then, "Armando, I'm going to have my own firm someday. Will you come work with me when I do?" And here we are dijin (today)!
---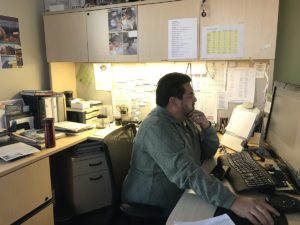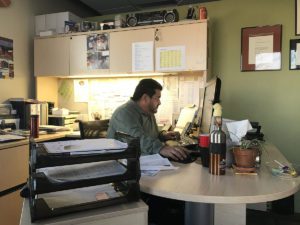 ---
Q: WHAT IS THE STRANGEST (OR MOST INTERESTING) THING THAT HAS EVER HAPPENED TO YOU ON THIS JOB?
A: Well let me see. I've crawled under really old buildings. Driven a Toyota Prius on solid ice covered highways. Operated heavy equipment at construction sites. Designed a $600K ammo blast berm. Visited Hopi Walpi and Acoma Pueblo Mesas. Met Frank Gehry. And strangely enough, I've visited the tombs of Bruce Lee and Jimmy Hendrix. But I would definitely have to say that climbing on and into 150 foot high water tanks has definitely been the most interesting, and scariest! I'd definitely never do that again!
Q: WHAT ADVICE WOULD YOU GIVE TO PEOPLE STARTING OFF IN THE INDUSTRY TODAY?
A: First, ask yourself, if you were rich, would you do this job for free? Second, make sure that if you pursue this profession or industry, that you will develop a passion for it. Because as illustrious as this profession is portrayed to be, it takes many hours of training and many hours of challenging, arduous, and at times, tedious work to succeed. To me, this driving passion is vital in architecture and it can lead to a wonderful and fulfilling life long career.