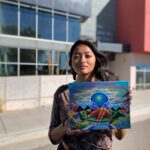 In acrylic paint, I have captured the vividness of IAIA's sunset view in the painted piece "You Can Start Here." The colorfulness and ambiguous figure represent the ambition of all Institute of American Indian Arts (IAIA) members. The opportunity to become who you believe starts when you touch campus.  "You Can Start Here" is a piece centered around gratitude, beginnings, and empowerment.
Dyron Murphy Architects (DMA) hosted an Art Contest for the Institute of American Indian Arts' students, an initiative designed to foster artistic expression and a way to give back to the IAIA community and its talented students.
After receiving some impressive submissions from talented artists, we are excited to announce the winner of this contest: Elysia Escobedo. Her artwork not only captured the essence of IAIA's campus but also showcased the creativity and collaboration with DMA branding that this contest aimed to accomplish. Her submission stood out for its innovative approach, attention to detail, and thoughtful integration of IAIA's unique spirit into the DMA branding.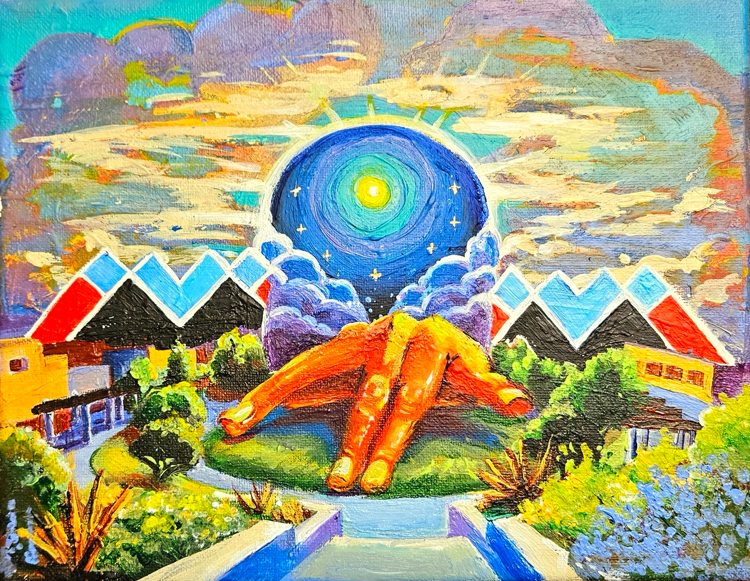 The Art Contest wasn't just about recognizing artistic talent; it was also an opportunity to support the IAIA community. As part of the contest, we are awarding a cash prize and will be providing a 4×5 foot stretched canvas and all the art supplies needed to recreate her winning piece. This collaboration allows us to support the winner, and empower emerging artists like Elysia to further develop their talents.
We are currently working closely with Elysia to ensure she has all the materials she needs to bring her vision to life on the canvas. This artwork will be proudly displayed at DMA! Stay tuned for more.