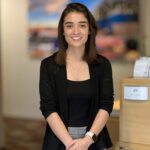 Q: What inspired you to pursue architecture?
A: I have always had a love and interest in design. I always knew I wanted to pursue something that allowed me to use my creativity. I gained a huge love for architecture throughout high school and was inspired to pursue it as I began my studies at The University of New Mexico.
---
Q: Who or what motivates you?
A: My family has always been there to support me and motivate me with everything I do. I am so grateful for the support I receive. I strive to do the best I can in everything that I do and I believe that maintaining a positive attitude also keeps me motivated and moving forward.
---
Q: What is your favorite part about the workday?
A: I enjoy being a part of the overall design process. It is exciting being assigned something new to do. I love to learn and gain knowledge in different areas. It inspires me to keep going and look forward to what I will learn next in the days to come.
---
Q: Tell us a fun fact about yourself. 
A: I have been to Disneyland in Anaheim, California over 20 times in my lifetime.
---
Q: What is your dream design project?
A: I would love to be a part of designing a place where people gather and linger, such as a museum or memorial. I love the idea of exploratory architecture, where people can guide themselves through a building, exploring the different spaces and paths created for specific subjects, curious as to what may be around the bend.