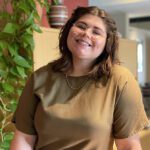 What is it about interior design that interests you most?
I love that design can be such a humbling tool to help people- I'm really interested in how design supports an identity and place.
---
What is your favorite part of the work day?
My favorite part of the work day is when I get into a "flow state"- this is when I get really into a project and time suddenly flies by with no interruptions. I love that feeling of being so deeply concentrated in my work.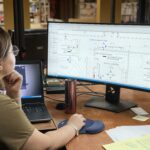 ---
What are your favorite contemporary styles and why?
I wouldn't say I'm a fan of any specific style- I'm more a fan of "good design." I gravitate towards work that draws upon a strong sense of materiality, a relationship to its location/place, and a foundation of conversation between the building and the user.
---
To date, what is your favorite project that you have worked on and why?
I've really enjoyed working on the Shiprock Visitors Center- it's a great opportunity to not only show case the place of Shiprock, but is also a platform to educate the public on Navajo culture. That project has posed some great dichotomies exploring the relationship of traditional roots sprouting into contemporary relationships with community and site.
---
What would you say is your strongest advantage (or talents) in interior design?
I think designers have this great super power of breathing life into an idea. Being able to dream and then grabbing your tool box to make it a reality is a wonderful talent to wield.
---
What is your dream design project? (be specific: Location, materials, category etc.)
I really admire the Projects done by Rural Studio and Design Build Bluff. Their projects typically center towards clients in lower income communities, who without the help of studios like these, would otherwise not have access to design services. Both of these studios are very hands on from the early design to the construction of homes, community centers, and clinics. Everything and everyone is apart of that process. I think in a dream land I'd love to be apart of a project like that.