Adjusting to the Pandemic

Dealing with the COVID-19 pandemic in 2020 has been a serious challenge to many, including first responders and health providers.  We salute their commitment to helping those fight this deadly virus. We at DMA embraced the idea of safety for our employees, community and clients as we try to adjust to the "new normal". When we take on the design of new buildings or renovating existing buildings, we remain mindful of the need to emphasize healthy buildings through increased awareness of how such a pandemic can affect "normal" design standards. This approach may include how much additional natural ventilation that the buildings should enhance interior environments for building occupants, and how these increased airflow levels within spaces per person could be doubled and that we recommended air filtration levels. This response to human comfort and health is a responsibility that we advocate within our work.
Aside from the architectural aspect, our office operations finds us working more and more in a virtual environment.  Although virtual culture has become socially popular via online media and platforms that are aimed at enhancing people's lives, often as easy as clicking a few buttons, the challenge is moving towards working within a virtual platform. We adopted the idea of how our homes are now our workplace, adapting to the use of tools such as WebEx and Zoom as a form of communicating with co-workers and clients, and taking on a new direction of how we produce work in a visual manner. Overall, our team has been adjusting and completing day-to-day tasks just as productively. We occasionally throw in some virtual happy hours and lunch meetings to spice things up a bit.
---
DMA Steps Up Our Commitment to Green and Develops an Action Plan

Why did we start the Beyond Green Blog? You may have heard the term "Green Washing" used. It refers to companies that jumped on the Sustainability Band Wagon and overstate the actual sustainability of potentially what they produce. Terms such as "Cage Free, Grass Fed, Organically Grown or Chemical Free" are often used to promote their products. This phenomenon caused us self-examine; in the architectural design field, were we guilty of green washing? Hence, "Beyond Green" was conceived as our own sustainable cultural direction. Our goal is to talk about sustainability issues that will have the most impact on climate change mitigation.
Dyron Murphy Architect's renewed sustainability effort reemerged in October 2019, partly due to a result of the American Institute of Architects push to encourage their members to sign on to the AIA 2030 Commitment (https://www.aia.org/resources/202041-the-2030-commitment). The 2030 Commitment calls for the elimination of all fossil fuels from building energy use by the year 2030. We  originally signed on to the program in 2011 as one of the first architectural firms in New Mexico to do so, however, while we did manage to complete 17 LEED projects, we didn't formalize the next steps required to create a firm Sustainable Action Plan, including uploading projects to the program data base. Over the past year, we developed our Sustainability Action Plan that is uniquely tailored to our practice and registered it to the 2030 Commitment Program. We recently uploaded our first project energy model that meets the commitment goals. Our action plan outlines how our firm will make the necessary changes in the way we design our projects. Our commitment includes moving away from introducing fossil fuels in design, designing highly energy-efficient buildings, conserving water in a significant way on our buildings, reducing the embodied carbon footprint in the construction of our projects and promoting the use of renewable energy systems, such as solar. We look forward to 2021 and that we may open the door to a more sustainable future for our clients, our region and our planet.
---
Nitish Becomes President of the AIA Albuquerque Board

Nitish Suvarna, Project Architect, has worked with DMA for the past 11 years and has been a member with AIA for 8 years. Since then, he has served 2 terms as AIA Albuquerque Treasurer. For this upcoming year, we are proud to announce that Mr. Suvarna was elected President for the AIA Albuquerque board. To find out more about this click here!
Nitish brings a collaborative and inclusive approach to each of his projects, resulting in designs that reflect our clients' goals. Nitish draws inspiration from remote locations with involved communities, and is involved with multiple projects in remote locations. He also analyzes the site's distinctive location for unique green performance solutions.
We asked Nitish what his goals were as AIA Albuquerque President and he responded as follows:
"I want to continue the good work done by previous presidents. The pandemic also presents challenges and opportunities, which we hope to overcome and come out stronger as an organization. It would be nice to encourage more member participation and continue supporting the architectural community in pursuing smart environmentally responsible goals."
To keep up with the latest updates and events from Albuquerque AIA click here.
---
Continuing to Serve NTUA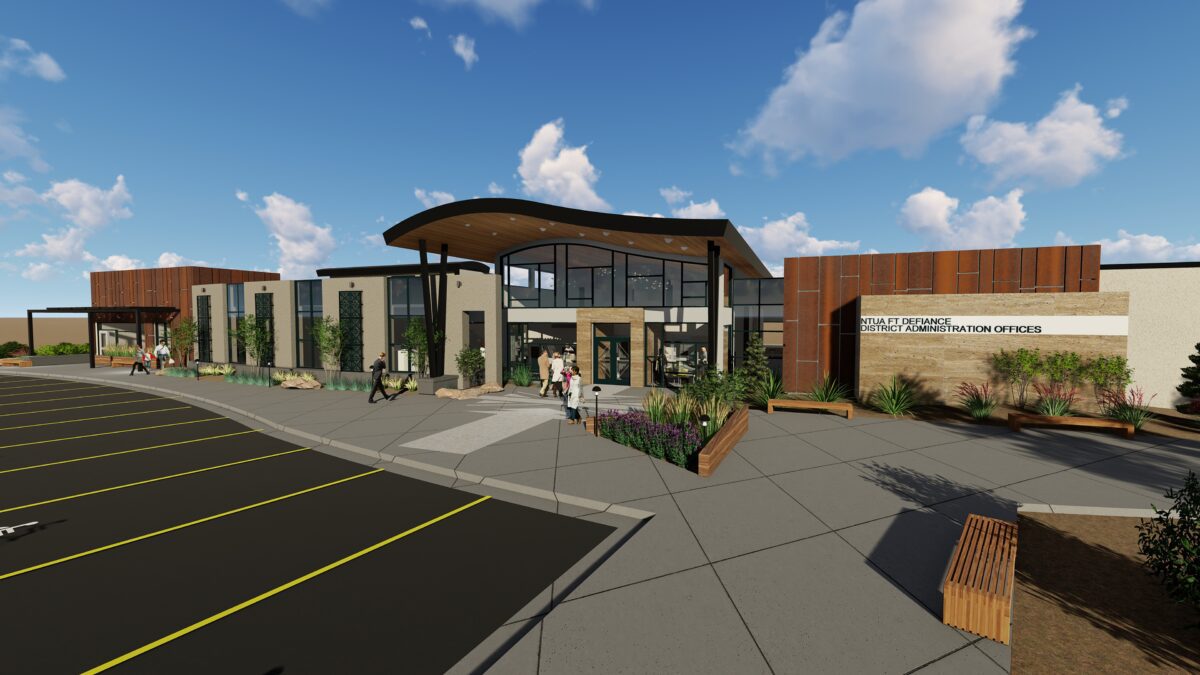 In 2018, DMA oversaw the completion of the 80,000 SF Navajo Tribal Utility Authority (NTUA) Headquarters building in Fort Defiance, Arizona on the Navajo Nation, replacing the former, much smaller Headquarters building, constructed in the 1950s.  The long-awaited new facility brought together various administrative departments and features several employee amenities including a cafeteria and kitchen, fitness center, a memorial Hogan, exterior patios and balconies, as well as walking trails that soften access to the built environment and increase connections to the natural environment and personal wellness. Increased use of technology and modern environments enhances the staff experience.  In addition, NTUA implemented solar power as part of the facility systems, via 3 large sun tracking photovoltaic panels.  The building was designed with LEED principles, aimed at increased environmental performance.
We are grateful to be able to continue our work with NTUA on the Fort Defiance and Red Mesa District Offices. Our firm completed the conceptual designs for these two projects in early 2019, with inspiration derived from similarly adopted design concepts of the NTUA headquarters. Within the design of the two district offices, care will be taken to respect the local community and staff with features that will be unique to each location. Our aim is to provide enjoyable places to work for NTUA employees with state of the art technology and places that NTUA can be proud to serve their community and customers. Since the projects are in early design stages at this point, our goal is to implement design features such as views to exterior and natural lighting, finish materials and colors that are relatable from a cultural perspective, enhanced lighting features, collaborative spaces and community spaces. We are able to have discussions with various client user groups and learn about their daily activities, which helps us to incorporate a design to enhance and facilitate their tasks.
Working with NTUA staff on these projects will allow us to collaboratively develop appropriate and sustainable facilities, while we work towards providing excellent service and modern designs for our client that speaks to their development goals and community service as the primary utility provider on the Navajo Nation.
---
The Dennis Chavez Community Center Expansion Begins Construction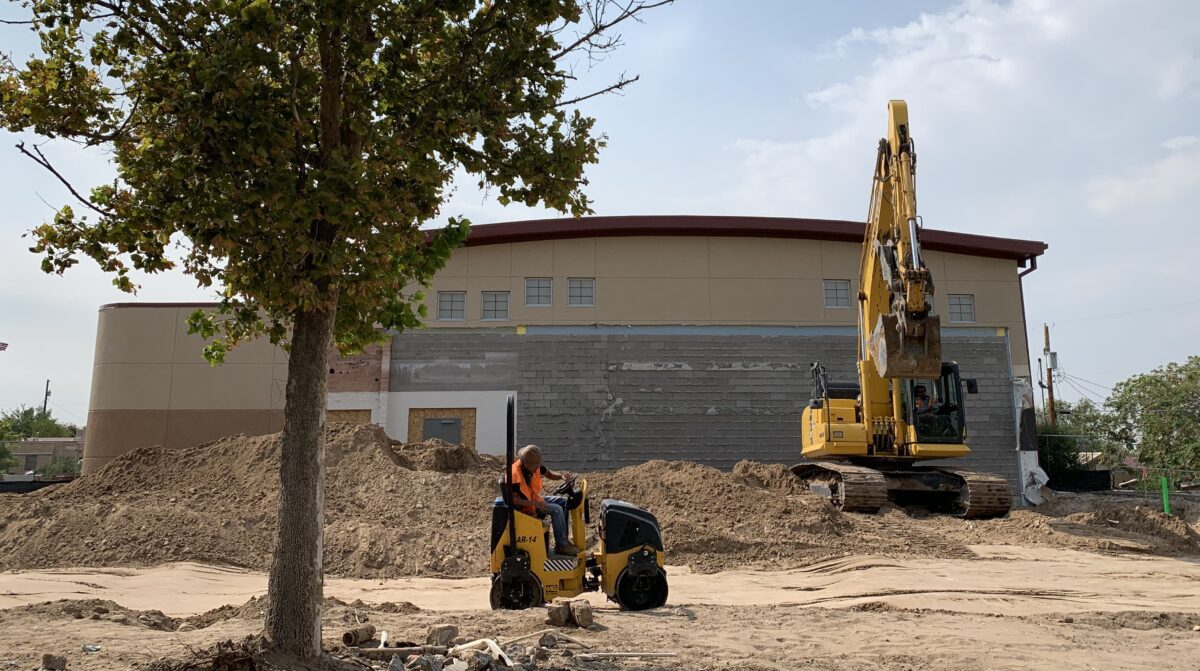 In 2019, DMA began the design on the Dennis Chavez Community Center Expansion for the City of Albuquerque. The expansion will provide the community with additional facilities space including a new craft room, a multi-purpose room with an adjacent warming kitchen and a new fitness center. The implementation of large windows will introduce greater levels of natural daylight and provide views of an adjacent city park. Construction started in August 2020 and is expected to be completed in August 2021.
---
Thoreau Veterans Center Breaks Ground via Zoom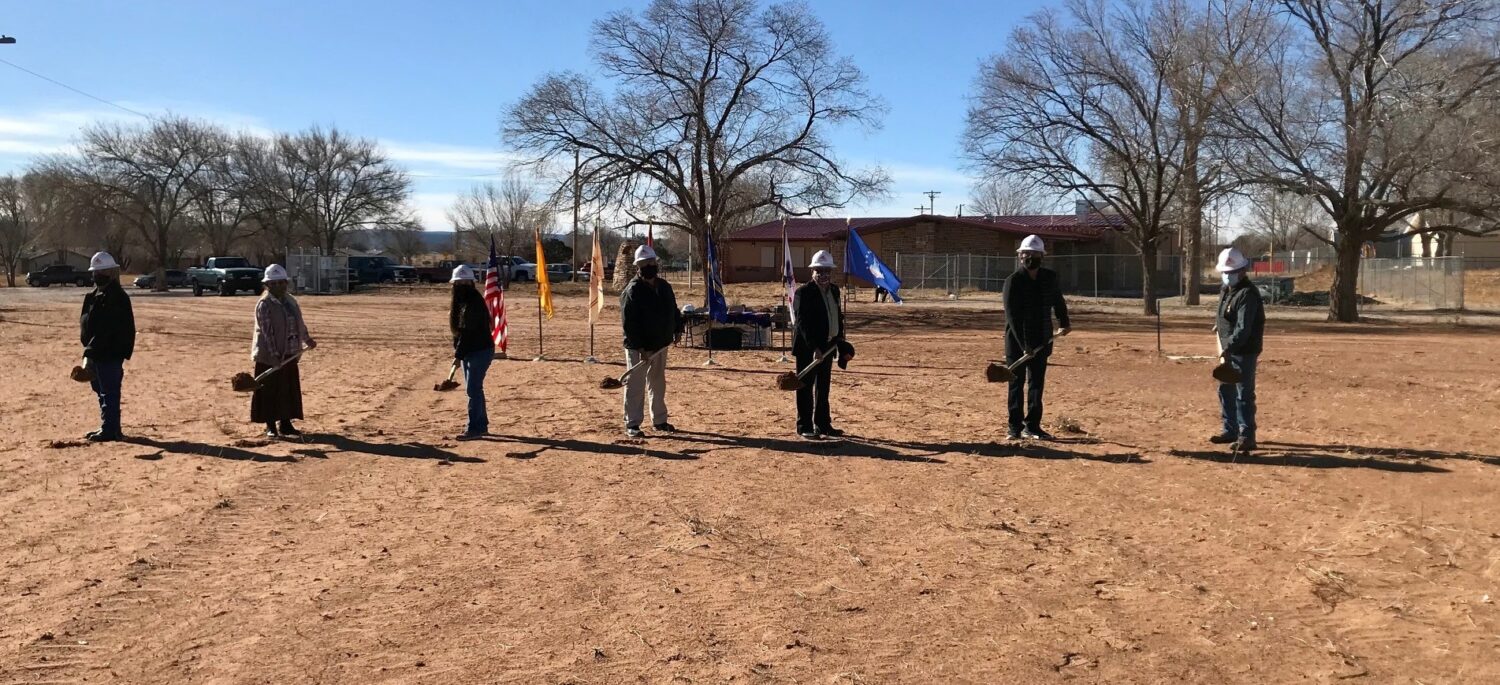 On November 30th, the Thoreau Veteran's Organization, in collaboration with the Thoreau Chapter, Thoreau Women's Veterans Auxiliary, Navajo Nation and others participated in a formal ground breaking ceremony on the site to officially commence construction.  DMA designed the facility in September 2019, and bid the project in November 2019. The project was intended to begin in early 2020, however, delays due to the COVID pandemic virtually halted the start for most of the year.
Through continued efforts of the Veterans Organization and Chapter leadership, in working with the Navajo Nation to get the project underway despite the Navajo Nation government shutdown through fall of 2020, the construction contracting process was completed and plans made to move forward despite the challenges of the pandemic environment.
The ground breaking event was held via Zoom which was a first for all of us, considering everyone's commitment to abide by State and Federal health regulations and limitations on social gatherings. The vision for this facility is to provide a home for all veterans, all branches, for all Navajo and non-Navajo veterans, to have a place to gather, hold events and receive services. The design of the facility incorporates a large gathering space in the shape of a traditional female Hogan (octagonal shaped), with the main entrance facing east. What is striking about the building location is that it captures the view of one of the four sacred mountains for the Navajo – Tsoodzil, or Mount Taylor, the turquoise mountain. The east courtyard features an honorary plaque for all branches of the U.S. Armed Forces, including the U.S. Coast Guard and MIA/POWs.  The courtyard also has a ceremonial fire pit.
We are truly honored to work with the Veteran community of Thoreau and others in the development of this special facility. We look forward to the grand opening in 2021.