A large part of the architectural method has a great deal to do with rendering. Rendering is the process of generating images from models with the aid of computer software. Vanessa Garcia, one of our architects has recently started working with Lumion, an innovative software used to create images, movies, and 3D renderings of architectural projects.
Vanessa says,"After we build working models in Revit (Building Information Modeling software), we can then import them into Lumion where we can create images or videos with real-time visual effects. It can take around 12 hours for Revit to create a single still image in the traditional rendering process, but with Lumion, I can create a fully optimized video in the same amount of time when rendered on the computer."
Lumion provides users with a variety of user-friendly editing and visualization tools, making the rendering process more efficient and versatile. All of the concepts created with Lumion result in both artistic and realistic visualizations. While Revit is extremely useful for technical documentation and will remain critical in how we operate, Lumion helps bring "life" to our new designs.
"I see Lumion becoming an essential step in most of, if not all of our future projects because it integrates with our Revit processing so well."
---
---
Dyron Murphy Architects (DMA) is currently working on designing the newest addition to the Institute of American Indian Arts (IAIA) in Santa Fe, New Mexico; a Multipurpose Performing Arts and Fitness Center. The construction documents are to be completed July, 2016 with construction scheduled to begin in the fall. The Performing Arts component of the project includes a black box theater, rehearsal studios, dressing rooms, green room and a costume shop as well as faculty offices and support spaces. The Health/Fitness component of the project includes a gymnasium, weight and cardio room, men's and women's locker rooms and support spaces. Both the Performing Arts and Health/Fitness components of the project share lobby, concession, ticket/admissions areas, an alumni courtyard and amphitheater, along with connective outdoor spaces.
Many of our clients rely on funding from various entities. The materials we produce for them with Lumion can be used for their own marketing and fundraising campaigns. To support fundraising efforts for the construction of the new Multipurpose Performing Arts and Fitness Center, the DMA team used Lumion to develop a custom project video for IAIA. Vanessa created a Lumion video fully in-house using the imported Revit model to showcase the new campus addition, bringing the building to life in a way that would normally require the assistance of a team of outsourced specialists. With Lumion, she was able to add people, landscaping, lighting, and other objects into the video, creating an immersive visual atmosphere.
---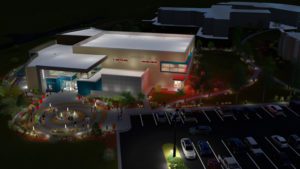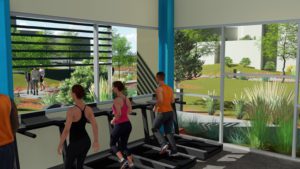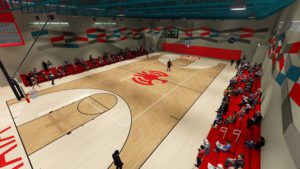 ---
EVOLVING THE VISUAL LANDSCAPE
---
DMA adopted Building Information Modeling (BIM) as a firm standard early on, quickly realizing the potential for Revit to more accurately portray a finished building than CAD or hand drafting. Just as BIM restructured the way projects were designed and documented, Lumion has changed the way architectural projects are visualized. Our team continues to explore options to assist our clients in visualizing and understanding project design prior to construction. We have learned over the years that higher quality of materials and resources used to explain a design to our clients results in a better overall understanding of what a facility will look like. This results in better feedback and an improved reception of the design intent.
"As technology changes rapidly, we see Lumion as a crucial tool moving forward, not only to stay relevant as a design firm in the 21st century, but more importantly, to successfully demonstrate our design capabilities to our clientele."
---
Related Team Members
Dyron Murphy
Vanessa Garcia
Oscar Tovar 
Related Projects
IAIA Multipurpose Performing Arts & Fitness Center