When the Applied Technology faculty of Central New Mexico Community College (CNM) realized that Ted Chavez Hall no longer fit their needs, they sought an architecture firm to re-design–and ultimately re-envision–their workspace.
Dyron Murphy Architects (DMA) assigned Oscar Tovar, Project Manager, and Vanessa Garcia, Project Architect to the project. They met with CNM project managers and faculty to determine how to best address the faculty's needs.
The consensus was that they needed to maximize the existing space in order to create more work stations, while simultaneously creating a sense of openness. In addition to creating more work stations, the client also requested a conference room and a collaborative work area. Aside from these requirements, the client didn't have a specific vision in mind. While this presented Oscar and Vanessa with the challenge of determining which design would be the right fit, it also gave them wide latitude to come up with creative design solutions.
Our designers started with what they knew: The Applied Technology faculty often get their hands dirty, and some work with circuitry. These details influenced a number of design elements, including the color palette (grey accented by key lime) and the use of resilient flooring rather than carpeting (to make cleaning easier). They also incorporated industrial accents into the design: Metal accents and clean lines were softened by a wood partition that created a physical barrier between work areas and the break room without making the space feel smaller.
---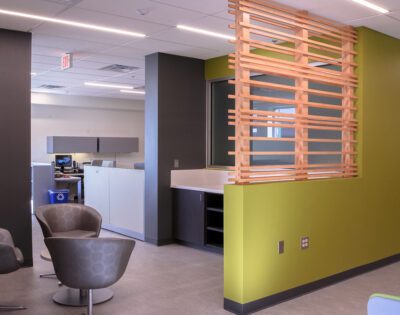 ---
Oscar and Vanessa also toured the campus's new library and STEM building to get a sense of the architectural vision the campus had for its future and to ensure that DMA's design reflected that vision. They also proposed various work station seating configurations to help CNM solidify their vision for the Applied Technology Department.
Another challenge for our architects was designing around the existing concrete masonry unit (CMU) walls; Oscar and Vanessa were tasked with creating more space without resorting to demolition. Ultimately, they enjoyed the challenge of working around the existing space to create a more functional, aesthetically pleasing workplace. They were also able to work around CNM's academic schedule, quickly completing the design and renovations during the campus's summer break.
The result? An invigorating space tempered by natural wood accents that invites collaboration, creativity and innovation.
---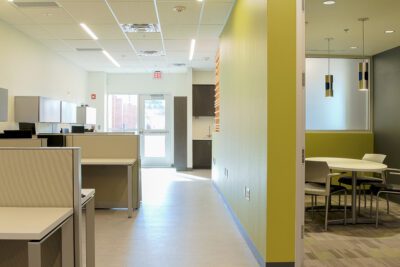 ---
Space is maximized while maintaining a bright, open feeling with the addition of work stations and a conference room.
The faculty is thrilled with the renovations, as are the architects behind the design. For her part, Vanessa said she loved working on a smaller project because "you have more time to focus on the design and the details." Oscar agreed and added that working with CNM was an enjoyable experience because they were "open to a sleek aesthetic and bright colors."
---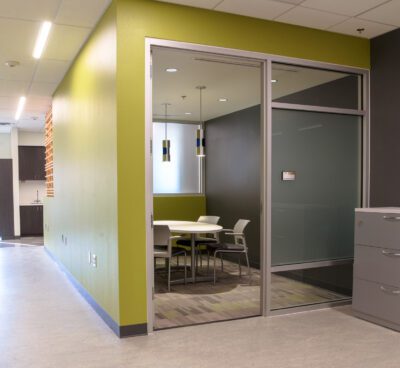 ---
Large frosted windows infuse the conference room with natural light and make it seem more spacious.
---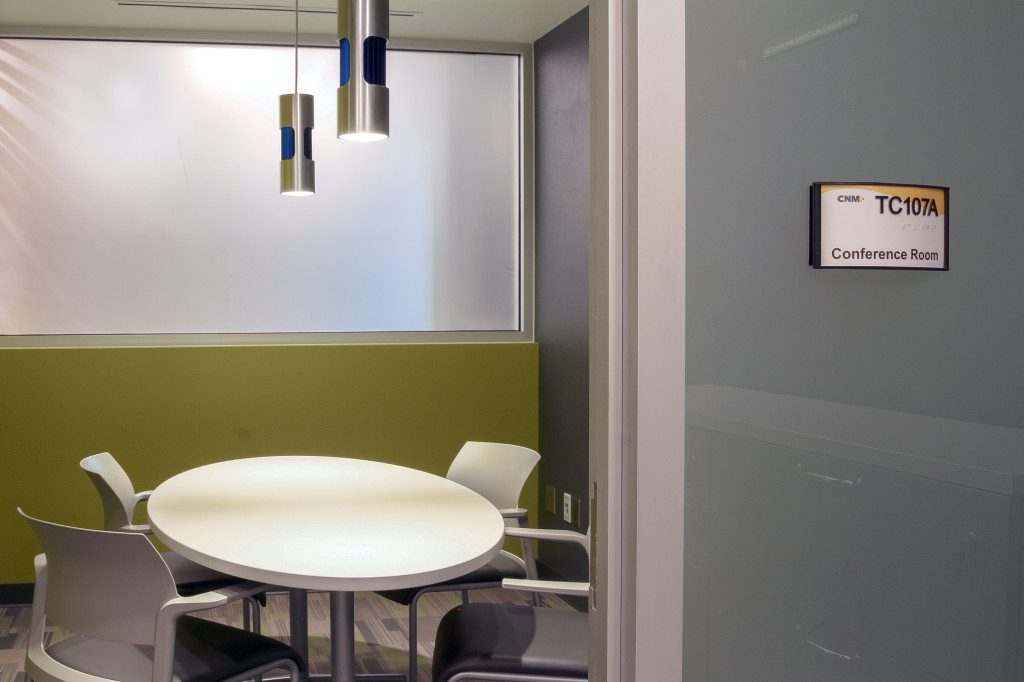 ---
Attention to detail, such as the conference room lighting fixtures, is one of the defining characteristics of the remodeled Applied Technologies Department of CNM.
---
Related Team Members
Vanessa Garcia
Dyron Murphy
Oscar Tovar 
Related Projects
CNM Ted Chavez Hall Renovation
CNM Oxford House Renovation