We spent some time with Logan Piburn, who shared with us a behind-the-scenes take on the life of a Code Specialist. Logan has been working at DMA for 9 years and performs advanced building code reviews to ensure that our projects meet the highest standards of accessibility, fire and life safety. Logan keeps code manuals dating back to the 1980's so that if we do an assessment or a renovation, he can look up what code the building was originally designed to. The hefty stack of code books on his desk demonstrates his commitment to his craft!
Q: HOW WOULD YOU DESCRIBE WHAT YOU DO AS A CODE SPECIALIST IN A FEW SENTENCES?
A: BIM/CAD Technician is my official title, but I'm more commonly referred to as our building code specialist. That is what I specialize in more than anything else. If someone asks a code question I can usually find the answer, but it's not that I necessarily have it off the top of my head. For example, if someone asks, "What do you think of putting this door in the middle of this hallway?" or "What happens if we lock this door so people can't get out of the building?" I can answer that, and usually the answer is no! These are things I have learned over years of having dealt with common code questions.
Q: WHAT IS YOUR FAVORITE PART OF WORKING AT DMA?
A: It's really nice to work on a variety of different things. One of things I've been doing recently is construction administration so there's a lot of travel as well as dealing with challenges that come up during construction, which can be rewarding in its own. But there are other projects that I get to jump off of and work on design aspects. For projects that have 365 days' worth of construction it tends to get a little monotonous at times so it's nice to switch it up here and there. I have worked at this firm for almost 10 years, and I can say working here has been a privilege. I think we have a really good group of people here. It has always been a good experience.
---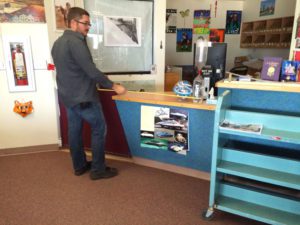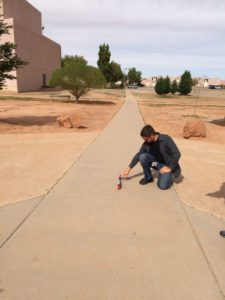 ---
Q: WHAT PROJECTS ARE YOU CURRENTLY WORKING ON?
Q: WHAT HAS YOUR FAVORITE PROJECT BEEN SO FAR? WHY?
A: One thing that is pretty unique about the firm in general is that we have a lot of different projects under our belt. There are firms that specialize in doing one type of building and that's all they do forever. I think probably my favorite one was a very small project, the Laguna Dental Clinic. It was a project where I really got to run with it from the beginning through to the end. Being able to solve the problems and handle the whole process is really nice. The Laguna Dental Clinic was a design build project that, from design to completion, took about a year to finish.
---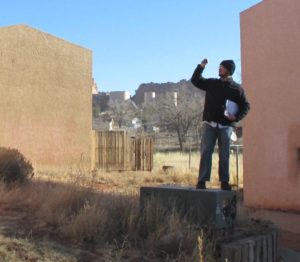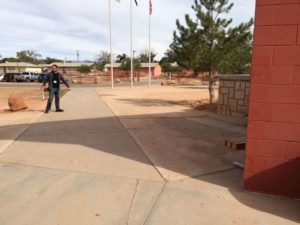 ---
Q: WHAT DOES YOUR TYPICAL WORK DAY LOOK LIKE?
A: Typical work day can be one of many things. There are a lot of days where I have travel, visits on site, meetings with owners, engineers, etc. Then there are other days where I have standard sit down and get to work stuff going on in the office. Even still there are other days where it seems all I get done is talk with other people! Yesterday in particular, I was on the phone for several hours with a variety of engineering consultants and reviewing authorities.
Q: WHAT IS THE STRANGEST THING THAT HAS EVER HAPPENED TO YOU ON THIS JOB?
A: Speaking of traveling reminds me of a time where we hit black ice on the Interstate just behind a bad crash. We managed to veer off onto the shoulder, but for a good 200 feet we were out of control and in serious trouble! The strange part is that I wasn't afraid even for a second. We just got back on the road and kept on going.
---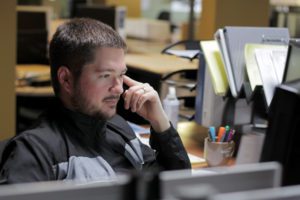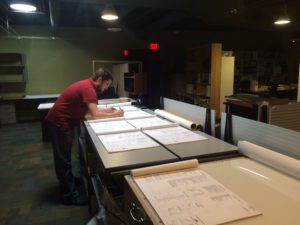 ---
Q: WHAT MADE YOU WANT TO PURSUE BEING A CODE SPECIALIST?
A: Building code is not something you typically say, "Hey! I want to be a building inspector when I grow up!" it's not really glamorous in that sense. I first started looking at health code requirements for swimming pools in 2002. When I started working for DMA I started doing what I like to call 'real architecture' which naturally transitioned into building codes such as egress and lifesafety. I think what got me interested in the industry in the first place was design; being able to visualize something, draw it out, and turn it into a reality.
Q: WHAT HAVE YOU SEEN ON RECENT TRAVELS THAT INSPIRES YOU?
A: Nature in general inspires me. There are several different environments within the Navajo Nation (most of my travel) that have their own feel to them. There are high mesas, desert, scrubland, and rich pine forests. To pick one in particular I would have to say the sandstone bluffs in Navajo, New Mexico. They tower over the low lying community and have a presence that is both sheltering and intimidating.
---