Is it possible to design a highly-efficient, durable, and affordable house in a rural location? All too often, quality of design suffers due to budget constraints, and sustainability becomes an item buried on a long-forgotten wish list. Realizing the need to integrate sustainable initiatives with high-quality housing designs in rural locations, the Dyron Murphy Architects team set out to develop a housing prototype that Native Housing Authorities across the country could adapt to meet their needs. The resulting project was the DMA "EcoHouse".
ECOHOUSE DESIGN GOALS
– Design a 1,500 SF prototype eco-house that would be enjoyable to live in.
– Affordable construction using "off-the-shelf" technology to minimize energy consumption.
– Use the EcoHouse prototype to develop an Eco-Neighborhood design consisting of prototype eco-homes and community buildings.
Our team wanted to deliver a prototype design that worked with the environment to conserve resources and reduce maintenance costs. It needed to be durable, easy to maintain, and affordable to construct.
Recognizing connectivity to utilities as a major concern for many of our clients, the DMA team incorporated a photovoltaic system to generate electricity for the home owner's use. This system, combined with a ground source heat pump for heating homes in cooler climates, LED light fixtures for minimal electricity consumption, and a highly insulated building envelope ensured maximum energy conservation.
Low flow fixtures for sinks, showers and toilets as well as rainwater collection and grey-water filtration for recycling water to use for flushing toilets, washing clothes, and landscape irrigation significantly reduced water consumption in the EcoHouse.
Since 2010, the DMA team has been using elements of the EcoHouse to guide the planning and design of numerous Native housing developments. Using this study, we have assisted our clients in identifying sustainable initiatives and adapting our design to fit various budgets and climates.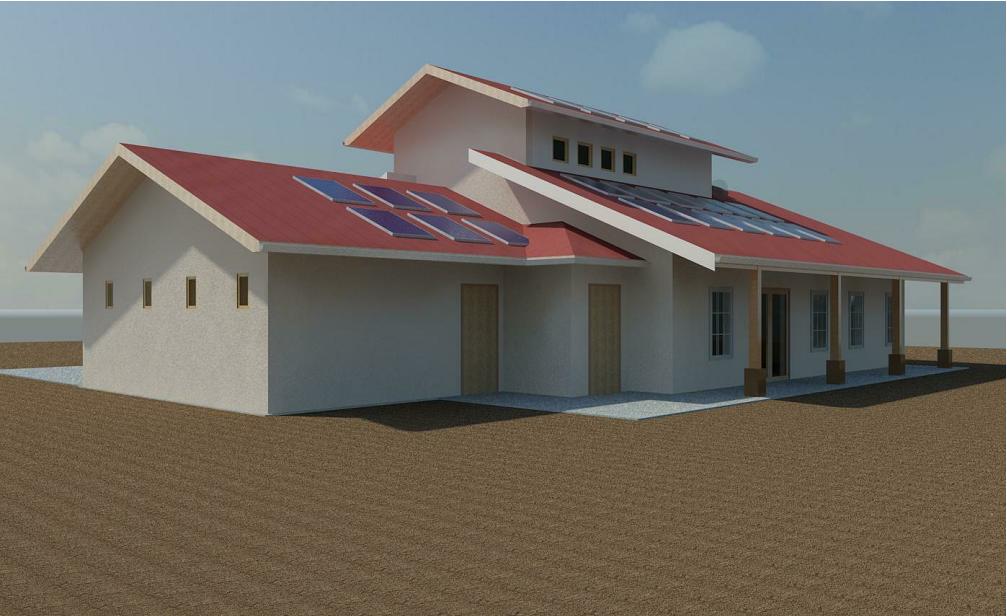 GREEN DESIGN FEATURES OF THE ECOHOUSE
– Photo-voltaic System to generate electricity for the home owner's use and to sell back the excess electricity to the grid/power company
– Ground Source Heat Pump system for heating homes in cooler climates
– Evaporative Cooling using heat-exchanger technology and natural ventilation strategies for cooling homes in cooler climates.
– Natural Day-lighting strategies utilizing windows, clerestories and skylights
– Solar water heating system
– Low water use fixtures for sinks, showers and toilets
– Rainwater collection and grey-water filtration system for recycling of water to use for flushing toilets, washing clothes and landscape irrigation
– LED light fixtures for lower electricity consumption
– Very highly insulated building envelope with R26 minimum walls, R40 minimum roofs and low U-values and Low-E for the glazing. Provide shading features at glazing. Utilize thermal mass properties in the design of the envelope
– Landscaping designed to shade homes in summer and to create micro-climates
– Use of construction materials with recycled content, materials made from rapidly renewable products and regionally manufactured products
– Design the homes to achieve LEED Gold Certification
---
Related Team Members
Dyron Murphy
Jim Houser
Nitish Suvarna
Logan Piburn
Related Projects
Ak-Chin Indian Community Housing